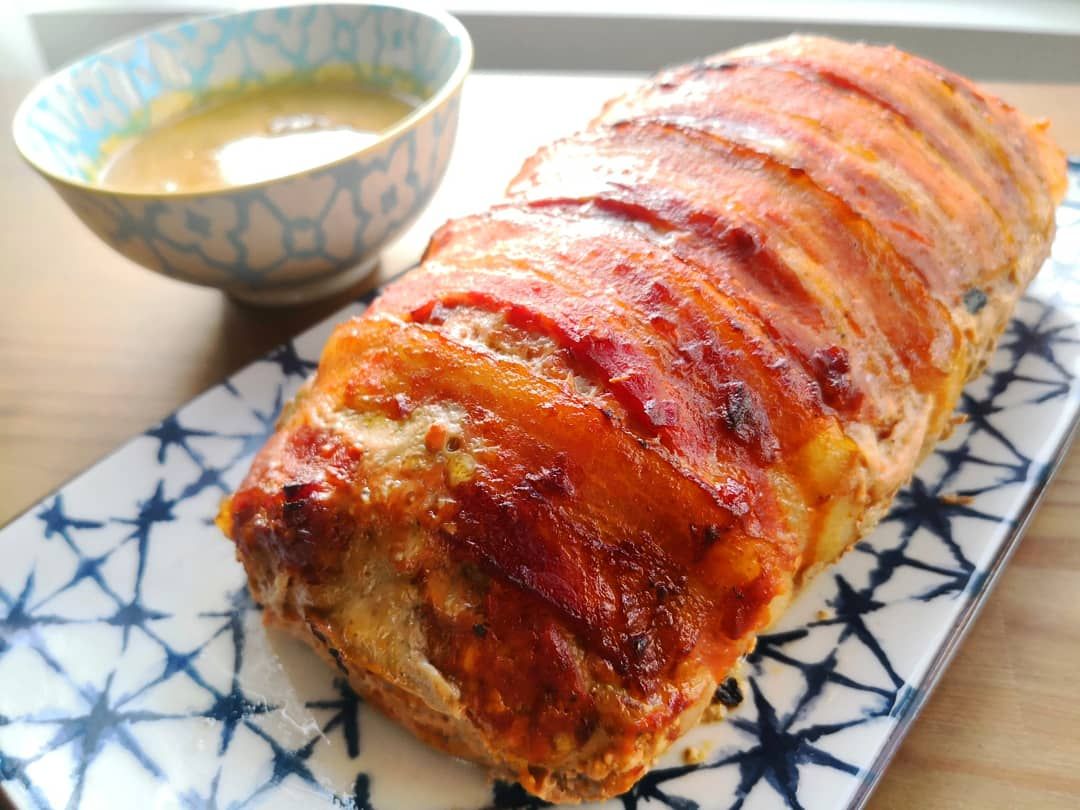 One great thing about cooking at home is that you have the power to decide what to make; from something super simple like steak and fried eggs, to something a little bit more fancy that will wow the dinner company. For me, it depends entirely on my mood because even though I'm just as happy gnawing on plain pieces of steak, it also gives me great satisfaction to present something like this on the table.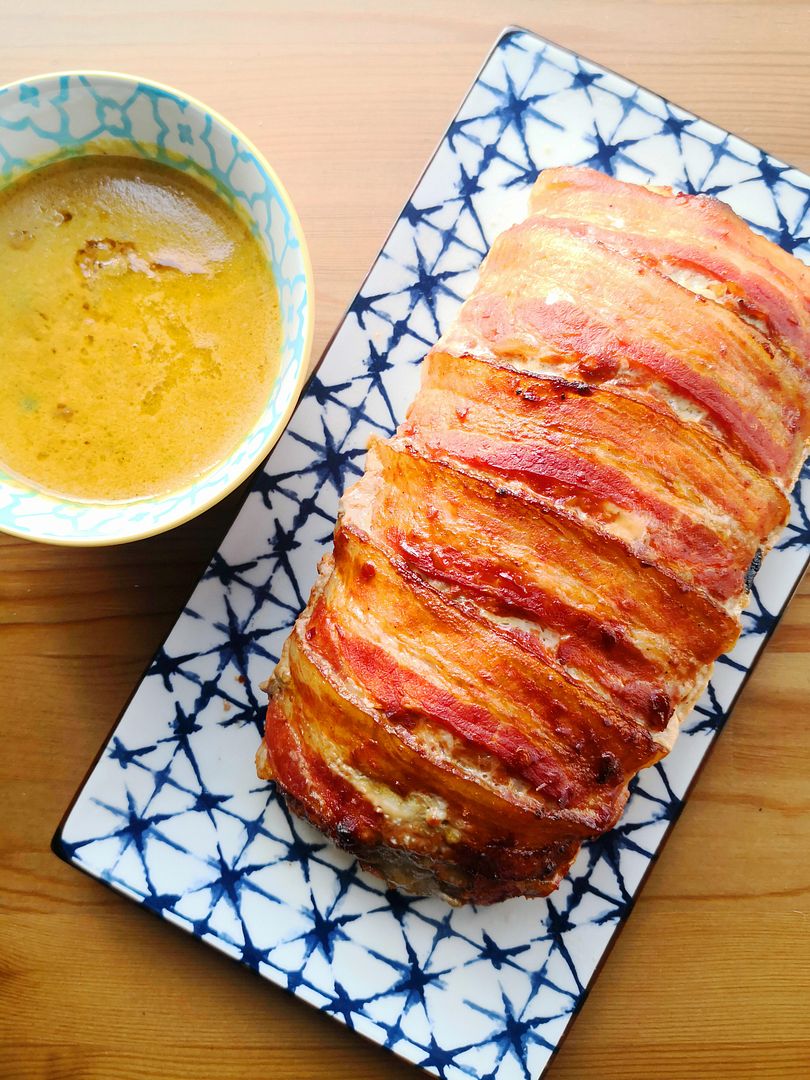 What can I say? Bacon wrapped goodies definitely can get people excited! Sometimes meatloaf gets a bad name because traditionally it's made with lean meat and a lot of fillers (mainly bread), so it can taste bland and spongey if you are not careful. Or it can get drenched in so much BBQ Sauce and Ketchup that all you can taste is sugar. Well, not this recipe, of course. This is a celebration of meat!
The key to this is definitely the quality of the ingredients. I've chosen to use both beef and pork so that the "body" would be a lot juicier and easy on the palate too. A full beef version would be a little too gamey now that the fillers are out of the picture.
Switching out the traditional BBQ Sauce means we need to be creative with our keto friendly seasonings for extra umaminess, so that's where a good fish sauce comes into play. Red Boat Fish Sauce is our choice for 2 reasons: 1. It only contains anchovies and salt; 2. It's fermented using a centuries-old traditional method in large wooden barrels for a clean, natural umami flavor. If you can source it in your country, lucky you! I have to travel to Singapore for my supply. A touch of good quality tamari makes a world of difference too.
The glaze on top is quite essential for a meatloaf, so I've opted for a mix of tomato paste and sugar free Sambal Oelek, slightly watered down to brush on top.
I've also included a recipe for the sauce I made to serve with the meatloaf. It's super delicious!
Keto Meatloaf with Mustard Caper Cream Sauce (serves 4).
Ingredients:
Meatloaf:
500g Mince Pork
200g Mince Beef
1/2 Onion
1 large egg (I used duck egg here)
1 tablespoon Almond Flour
1/2 teaspoon Dried Oregano
1 teaspoon Wheat-free Tamari
1 teaspoon Red Boat Fish Sauce
1/2 teaspoon Pink Salt
6-7 strips of Streaky Bacon
Baste:
1 tablespoon Sugar Free Sambal Oelek
1 teaspoon Tomato Paste
Mustard Caper Cream Sauce:
Cooking jus from the meatloaf
1/4 cup heavy whipping cream
1 teaspoon Capers
1 tablespoon Dijon Mustard
1 tablespoon Butter
A generous squeeze of lemon
Preheat the oven to 170c.
Chop the onion really finely. I like to use a manual food chopper for that, because I'd then add the meat in to blend it up even more for a finer texture. You could use a food processor, or if you are super fancy (and rich), a thermomix.
Once the meat and onion is nicely mixed, pour it into a large mixing bowl, add tamari, fish sauce, salt, egg, oregano and almond flour and continue to mix by hand or spatula until well combined.
Shape the meat into a loaf by hand or with the help of a loaf pan, and wrap with strips of bacon. Brush the sambal and tomato paste mixture, then place in the loaf pan lined with baking paper to baked in the preheated oven for 50mins.
Once it's out of the oven, pour all the cooking jus out and set aside. Now we can make the sauce while the meatloaf cools.
Heat the pan and add all the cooking jus, Cream, caper and stir to mix. When it starts to thicken, add the pat of butter. Once the butter melts, turn off the heat and add a squeeze of lemon. Super simple!
Here it is! I served mine with a side of Turmeric roasted Cauliflower and Broccoli, and some Cabbage only Coleslaw.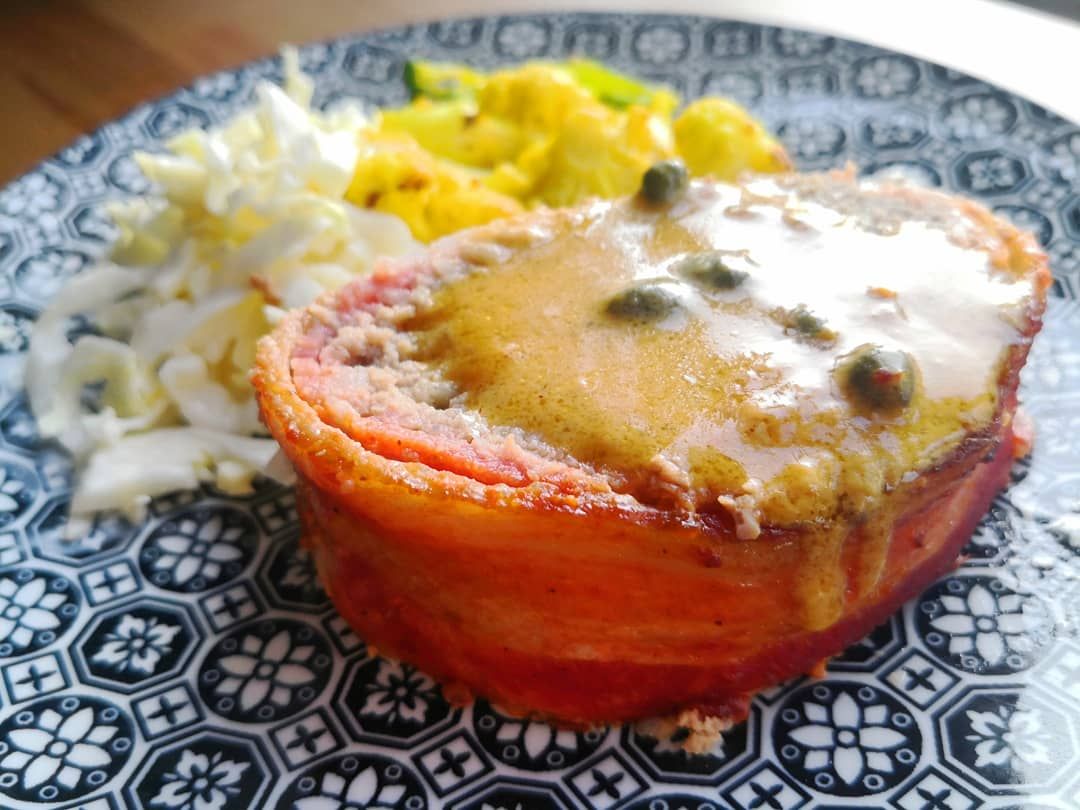 A perfectly balanced meal that is comforting and super delicious. 4 of us finished the entire meatloaf in one sitting!
When was the last time you've eaten a good meatloaf? Would you be tempted enough to give this a try?