Two Pork Belly recipes in a row, I'm really not kidding when I said it's my favourite. Us Chinese sure have a lot of wonderful recipes when it comes to cooking this wonderful piece of meat. From the tip of the tongue, there are Tau Yew Bak (Braised Soy Souce Pork Belly), Siew Yoke (of course, please refer to previous post), Tong Po Pork, Red Brasied Pork, Taiwanese Lu Rou, Cantonese Pork Belly with Salted Fish, Szechuan's Twice Cooked Pork (Hui Guo Rou) etc etc. But today I'd like to share a Low Carb version of a popular Hakka dish, Preserved Mustard Leaves with Pork Belly, Mei Cai Kou Rou 梅菜扣肉.
Growing up, the only type of Kou Rou I've ever eaten came from a can. It was a dish for occasional consumption because I used to mix all the glorious lard floating on top with my rice. I suppose eating fat really did come easily for me. Of course, pairing high fat with high carbs is definitely not a good combination, even if I didn't know it at the time. Now that we are consuming Low Carb, let's bring on the fat!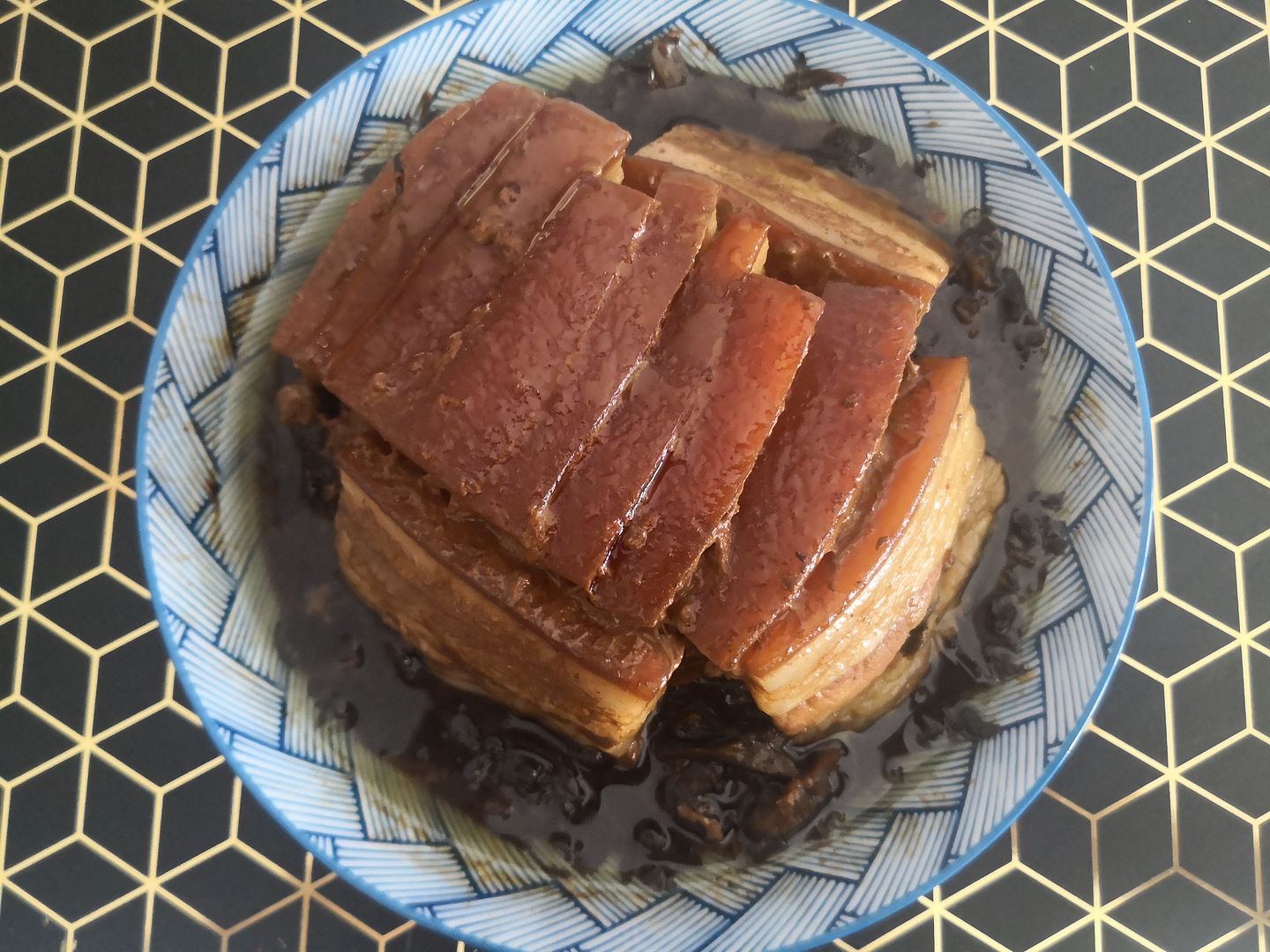 The freshly made version of Kou Rou is, of course, miles better tasting. In Chinese, the word 扣 refers to the action of placing the meat into a bowl as a mould and then inverting it out to serve. There is another version that pairs the Pork Belly with Yam, which is delicious too but unfortunately, I can no longer eat Yam. So Preserved Mustard Leaves/Mui Choy it is!
Why do we need to tweak the recipe? Doesn't Pork Belly mean high fat, thus suitable for Keto? Well, the seasoning for this dish usually involves soy sauce and oyster sauce; which contains sugar, and most would also use rock sugar. Granted the Mui Choy itself is usually seasoned with soy sauce and sugar too, but in this instance, we will soak it for longer to get rid of the seasoning as much as possible. My recipe is also a simplified one, omitting the deep frying to steam it using Pressure Cooker.
Recipe:
Ingredient
800g pork belly
200 – 300g mui choy (salty variety)
6 cloves garlic, sliced
1 inch knob of ginger, peeled and sliced
1 star anise
3 tbsp Tamari (I used 2 different types, light and dark)
2 tbsp Red Boat Fish Sauce
3 tbsp Shaoxing wine
1 tsp sesame oil
1 tbsp sugar substitute (I used Lakando), optional
2 tbsp Lard
Method
Rinse the mui choy thoroughly of the salt and other bits of sand. Soak for 30 minutes or overnight. Discard the water, then squeeze the vegetable dry. Chop into 1 cm lengths and set aside.
Bring a large pot of water to boil. Blanch the pork for 5-10 minutes. Remove and pat dry and coat the pork skin with 1 tsp of Tamari.
Mix the tamari, fish sauce, sesame oil, Shao Xing wine, and sugar substitute together in a bowl and set aside.
Drain the mui choy and squeeze dry slightly. Set aside.
Add the lard to the pan, then sear the pork belly on all sides, starting from the skin side. Remove and allow the pork belly to rest for a while. Slice the pork belly into 1 cm thick slices. The pork may still look pinkish in the centre. Marinate with part of the sauce mixed above and set aside for around an hour.
In the same pan, sauté the garlic and ginger pieces till fragrant and slightly caramelized. Add the mui choy in, followed by the rest of the sauce and the star anise. Stir everything together. Add a generous splash of water and simmer for 5 minutes.
Put 1 1/2 cups of water into the Instant Pot. Place a trivet at the base of the pot. Carefully arrange the pork belly slices neatly in a large ceramic bowl (this is a pot-in-pot method for the Pressure Cooker). Cover the pork pieces with the vegetable and pour the braising liquid over it. Place the bowl into the Pressure Cooker. Seal and set to high-pressure mode to cook for 40 minutes.
When done, wait till the pressure pin drop so there won't be any steam spraying out when you release manually. Invert the pork belly slices into a serving bowl and arrange the mui choy around it. Serve hot with cauliflower rice or other vegetables for a lovely low carb Chinese meal. Konjac rice can be a good choice too.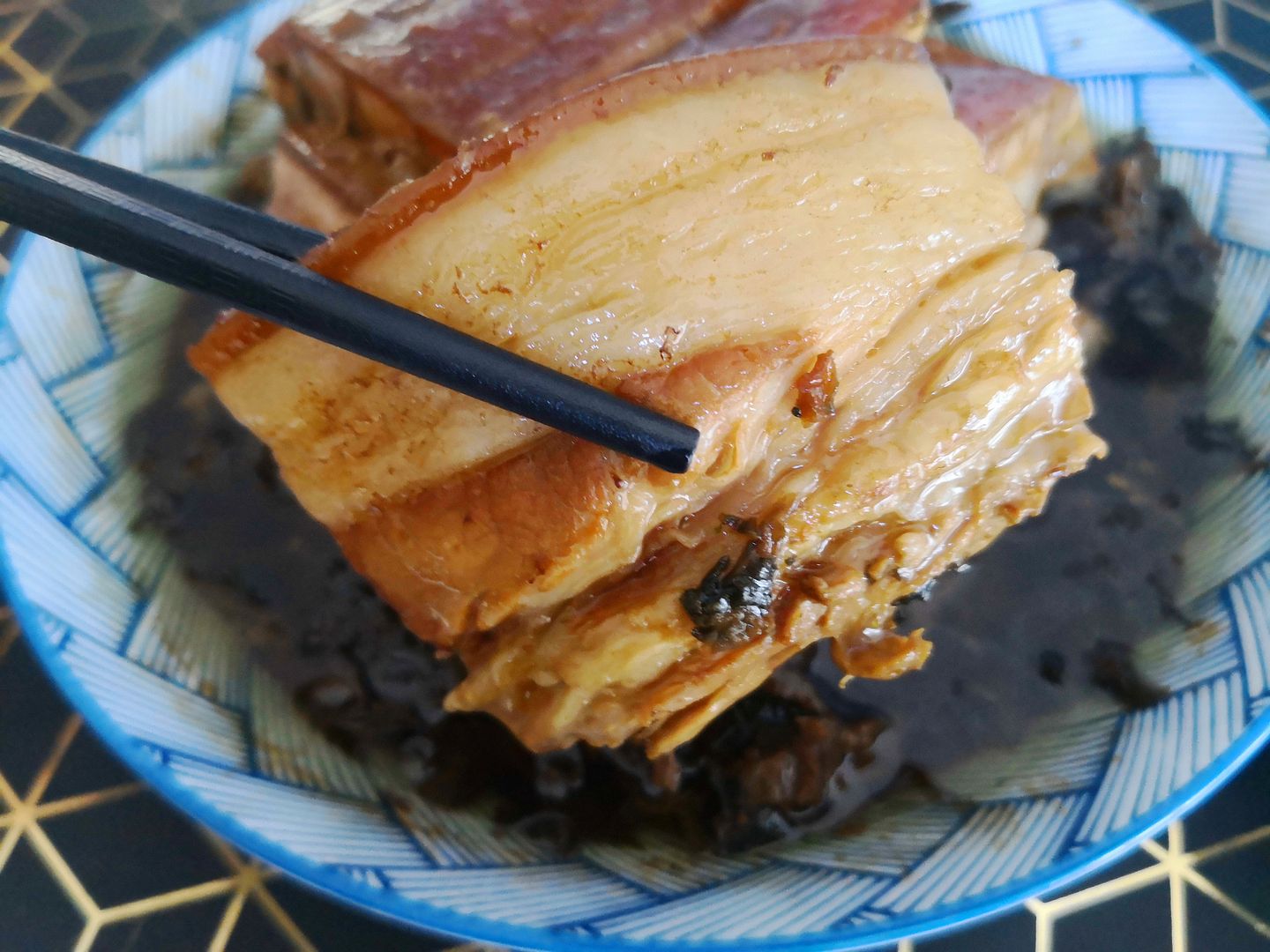 Check out that thick layer of fat! The dish might be a little tedious to make, but it's worth every effort! The meat just melts in your mouth, bringing you a burst of flavours from the meat, the simple sauce and the aromatic mui choy. Superb!
Do you love Pork Belly as much as we do? What is your favourite dish?