The human's largest organ, our skin is subjected to UV damage on a daily basis. Especially since we live in a country that's right on the equator (lucky us…not). Needless to say, sun protection is super important. But sometimes just slapping on the sunblock diligently is not enough to prevent pigmentation, and as we age, our defence does get weaker. Hence the appearance of age spots etc. Personally, I go for various laser treatment for my face to counter my pigmentation problems and have been doing that regularly for a few years now. I also wear sunblock on my face daily. Despite all this effort, my skin still has some really obvious spots. So I am really keen to find out if there's another way to solve this issue.
Well, a couple of weeks ago, I was invited along with a few other MHB Digital (www.mhbdigital.com) members to attend a little tea party featuring a beauty supplement. It was where we learnt about the latest product that has just been introduced to Malaysia: the NanoMD® Bright, the world's latest and most advanced supplement for skin protection, nutrition and brightening.
Just to make it clearer, NanoMD® Bright is a skin whitening product in tablet form. It's not the first of its kind to hit the market though, as some of you might have heard of another tablet with tomato in the brand name. But this one utilizes nanotechnologies instead, which is supposed to be a lot more potent and effective.
Developed in Boston, the USA by a multi-disciplinary team of world-class researchers and developers, doctors are confident that this product will greatly benefit those who are looking for a solution to their pigmentation issues. Clinical studies have been conducted and published in 2018 prestigious clinical research journals, illustrating the efficacy of this product.
Clinical studies on this new discovery were published in 2018 prestigious clinical research journals. It is the most powerful supplement that is able to add years of healthy, glowing skin.
The human body's largest organ – skin – greatly benefits from NanoMD® Bright's novel 3-way impact. Besides its unique brightening and sun protecting action, NanoMD® Bright was clinically proven to regenerate and thus maintain levels of collagen, and support the overall condition of blood vessels. Blood vessels remain supple and flexible which allows for nutrients to reach the organs keeping them healthy.
Of course, there's no point citing the studies without trying it for ourselves right? We got a month's supply of NanoMD® Bright to test it out and I will show you the result in a little bit.
Posing while thinking this is a good time to check this out as I've been outdoor a lot which you can tell by the colour of my arms (hehe). I think if you zoom in close enough you can also see some spots in my face, but let's not do that ok, I'll post a before/ after at the bottom of post. Oh, and also spotting a 3thelabel top here.
So a box contains 30 tablets, lasting exactly for a month as it's one-tablet-a-day form. Which is relatively fuss-free if you have a set regime. Ideally, immediately after breakfast is a good slot for compliance. It is also recommended that you take this along with Vitamin-C rich food to boost the effect.
The last time I had my Laser done was 13th December, during which my therapist pointed out a new spot under my eye.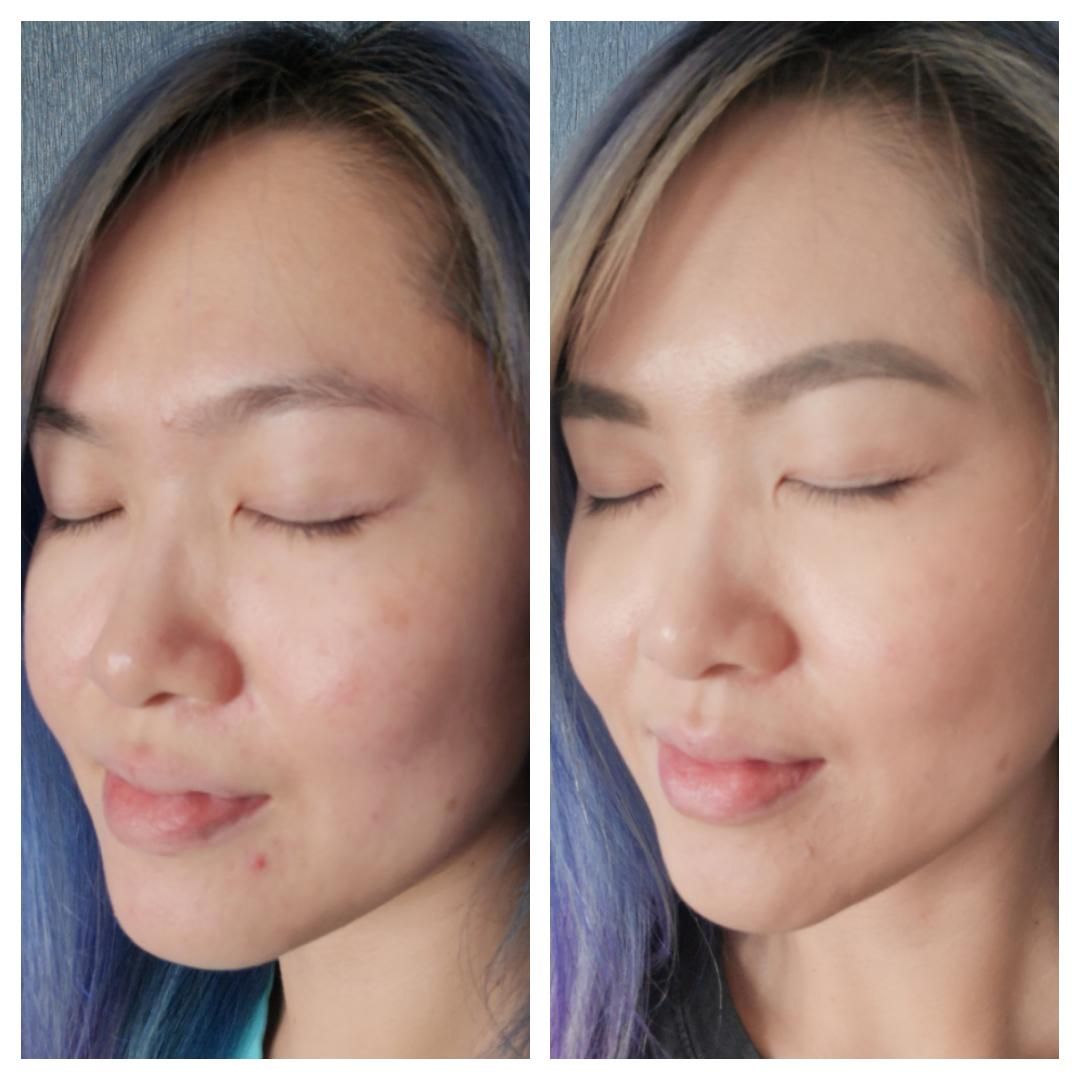 Picture taken a month apart.
Verdict: The more severe pigmentations are still visible. But there is increased brightness of the skin and there also seems to be more hydration (be it from the increase water intake or the supplement, I believe they work in tandem).
NanoMD® Bright is currently available in Malaysia. Do note that this product is NOT available online, but only through physician offices. A consultation with physician may be necessary to evaluate whether you may benefit from the use of NanoMD® Bright.
For more information, head over to https://www.mynanomd.com/
NanoMD® Bright is available in Malaysia and Singapore, exclusively at selected prestigious esthetic clinics below:
Sliq Clinic – https://sliqclinic.com/ (Malaysia)
The Retreat Clinic – http://theretreatclinic.com/ (Malaysia)
Alainn Clinic – http://alainnclinic.com/ (Malaysia)
SHENS Clinic – http://www.shensclinic.com (Singapore)
TES Clinic  – http://www.tesclinic.com (Singapore)