It's always nice to discover new ingredients to add to my cooking repertoire. Especially now that we only eat real food at home, working with fresh ingredients is paramount. Which is why I was excited to discover a new variety of mushrooms available locally in Klang Valley: Maitake Mushrooms.
Maitake mushrooms are also called the "dancing mushrooms" in Japan and also Hen of the woods, all very pretty names. The ones we get in Klang Valley hail from Japan, where these mushrooms are farmed in a facility with unique Japan Technology since 1983. So it's not new, but not many people are aware of this particular type yet.
Mushrooms belong to the Fungi Kingdom (yes, they are not plants) and most of them come with a myriad of health benefits. Maitake Mushrooms, in particular are loaded with alpha (α) and beta (β) glucans that improve immune strength. The dietary fiber found in abundance in Maitake also help stabilise blood sugars. Best still, these mushrooms are filled with vitamin D that strengthens your bones, so if you combine it with animal source of vitamin D and calcium, it then become a powerful booster for your bone health! The amount of antioxidants are pretty high too, which helps to eradicate free radicals to keep us young.
Most varieties of edible mushroom contain guanylic acid. This is an ingredient that draws out the umami in a food. Combining with other ingredients, it can bring your dish to the next level! Here I've chosen to pair Maitake with simple nutritious ingredients: Pancetta, Chili and Egg. Egg is a great source of Vitamin A, B, D, E and K and Pancetta (or bacon) gives plenty of monounsaturated fat (mostly oleic acid) which is good for your heart. I like to throw in a big chili or two in everything, which gives a boost of Vitamin A, B6, C (really high) and K. Basically, this is a highly nutritious dish! Don't forget to go out for some sun exposure to increase the Vitamin D level (with mask on, of course, with the current haze situation).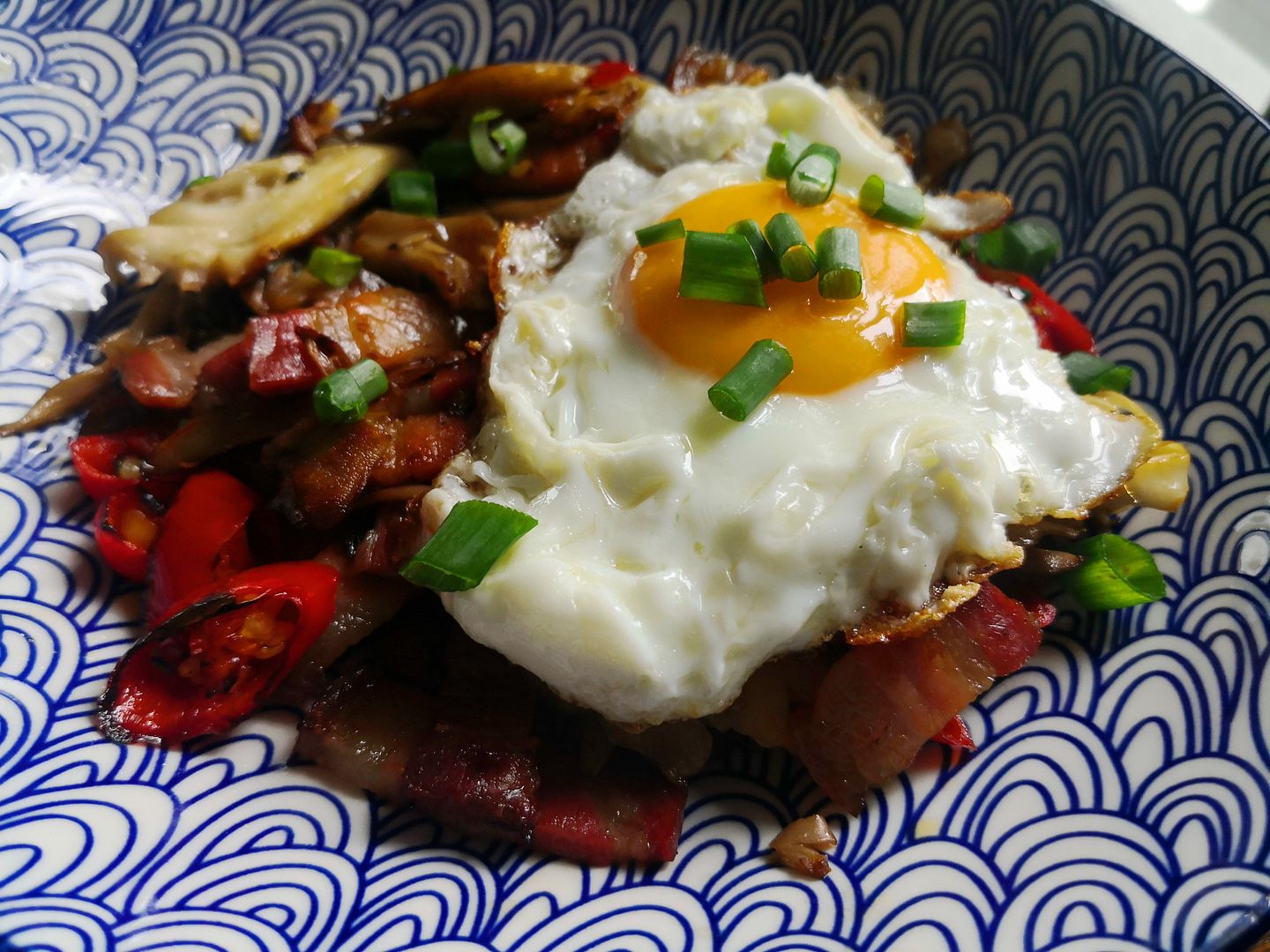 So here's a recipe video for this super simple dish! It's a complete meal itself with perfect balance of Fat, Protein, Carbs, but you can also pair it with a steak, salmon, or even a pork chop!
Maitake Mushrooms with Pancetta and Egg
1 Pack of Maitake Mushrooms
2 Strips of thick cut Pancetta, cut into lardons
2 cloves of Garlic, minced
1 Red Chili, diced
1 teaspoon Organic Tamari (wheat free, sugar free)
1 Kampung Egg (Free Range)
Lard
Spring onions to garnish
Prep the mushrooms by tearing into small florets.
Heat the pan and add lard. Cook Pancetta and Garlic until slightly brown. Then add Maitake mushrooms to stir fry for a minute or two until starting to colour. Season with Tamari. Add chili just before turning off the heat. Serve on a plate.
Clean the pan and cook an Egg to your liking. Sunny side up is best because we want that runny yolk. Place the egg on top and garnish with spring onions.
This dish is basically an umami bomb! The slightly crunchy Maitake dipped in the luscious egg yolk, and fatty pancetta, delivered an unctuous mouth feel. Delicious! We finished this in no time.
I've also tried pairing Maitake in a soup dish and it's fabulous! Here I have home made pork bone broth, konjac noodles, mince pork and Maitake mushrooms (with extra lard of course).
Currently you can purchase Maitake Mushrooms in all major AEON malls in Klang Valley, for retailing at RM5.90 per pack. For more information and more recipes, you can check out https://www.maitake.co.jp/english/.